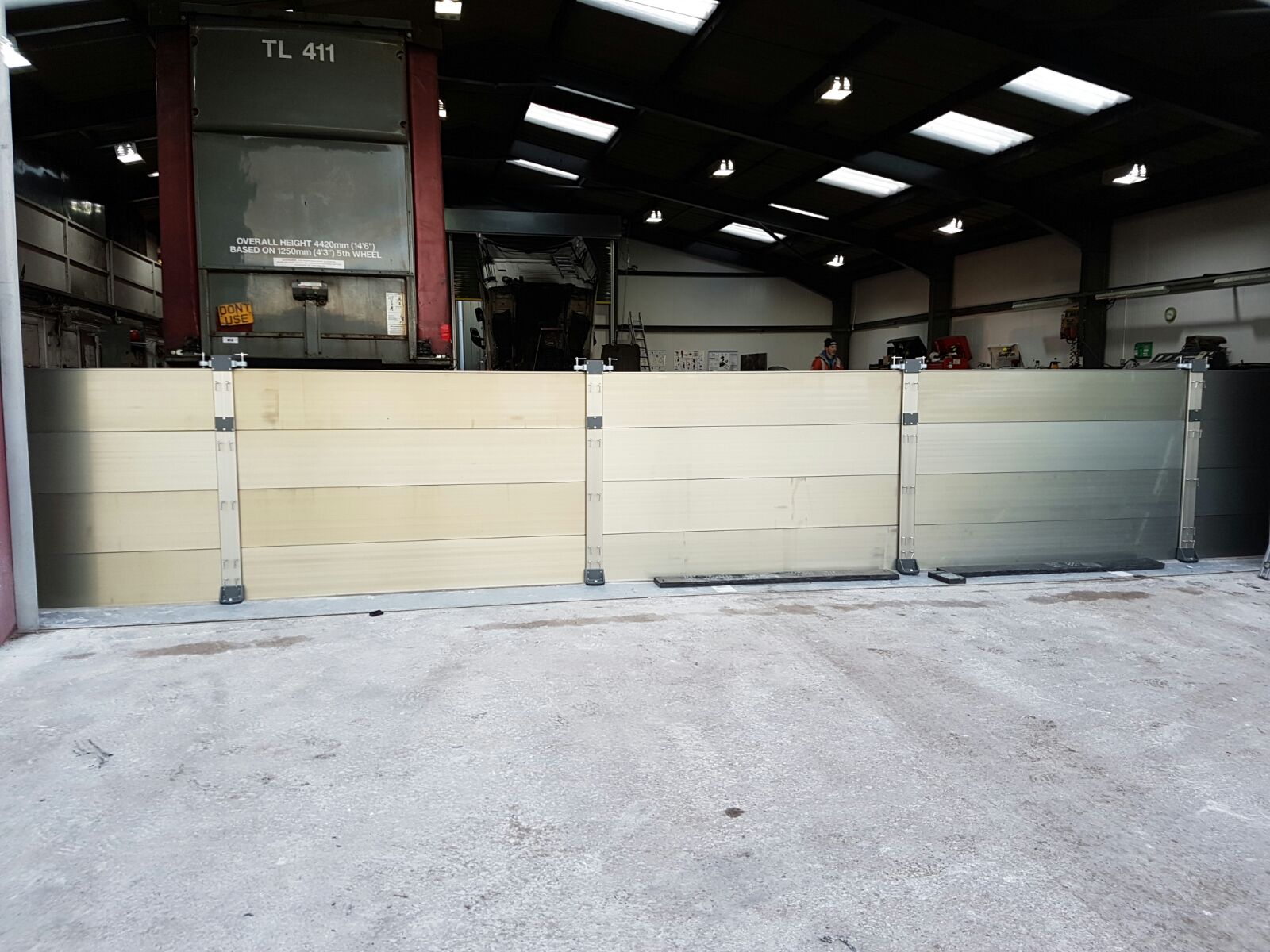 Slide 1
No tools required for deployment in seconds
Slide 2
No width or height limitation
Slide 3
Proven to work in real-life floods
The Leading Demountable
Flood Barrier System
We specialise in the manufacture and installation of the Lakeside Flood Barrier. All features of our system are additional and more enhanced than any other system available, therefore ensuring the most robust and superior flood defence.
The Lakeside Flood Barrier provides a lightweight, quick and simple flood protection solution suitable for all premises.
The Lakeside Flood Barrier is extremely versatile and suitable to all types of openings and requirements; from single doors to larger openings such as roller shutters or driveways, up to temporary demountable walls to offer flood protection to entire communities or coastal areas.
The system has no width or height limitation due to its modular nature and bespoke range of demountable middle and corner posts to suit any application.
The Lakeside Flood Barrier system represents the most robust form of flood protection available due to its exclusive interlocking design and bespoke ground U channel ensuring a continuous watertight seal.
It also provides the most user-friendly solution as there are no tools required allowing for deployment of the flood barrier within seconds in the event of the flood alert. When the system is not required, it can be easily removed and stored away.
These features are why we have been selected by world-leading organisations including Ford Motor Company, Oxford University, CBRE, TATA Steel, Interserve, KIER and even George Clooney!
The most competitive prices, direct from the Manufacturer

We are the only manufacturer of an aluminium flood barrier which also manages installation in house, so we can guarantee the most competitive rates and efficient service

Efficient lead-times nationwide

Due to our extensive production and warehouse facility and our efficient distribution channels, we are able to offer a quick turnaround on installation from order
We also offer immediate dispatch of our products on a supply only basis.

High quality after-sales service

Demonstration and on-site training
Stock itemisation
Storage solutions
Maintenance agreements.
Flood Barrier Accessories
We offer a wealth of tailored accessories to accompany our flood barrier to ensure the most efficient and secure deployment, as well as an aesthetically-pleasing finish to match the surroundings.
Side Post Cover Plates

Covers to completely conceal the flood barrier side posts and all visible fixings. Manufactured from anodized aluminium, the covers can be powder coated to any RAL colour.

Powder Coating

Powder coating of all barrier parts available to ensure a seamless aesthetic fit with the premises.

Barrier Storage Racks

Wall-mounted storage solutions for barrier profiles and middle posts, available in vertical or horizontal format.

Barrier Accessories Storage

Wall-mounted storage solutions for barrier accessories.

Storage Container

To store all parts

Stock Itemisation

Full Stock Itemisation of all flood barriers and accompanying storage racks using a simple colour coded system, to ensure simple and quick self-installation of the system when required.

Top Lockable Pressing Clamps

Clamps for all side and middle posts to lock the barriers into place when the system is in use.
Lakeside 1km Seafront Flood Barrier

The Lakeside Flood Barrier System is an optimal solution for seafront flood defence.

Lakeside Flood Barrier - Installation within minutes, no tools required!

See how simple the Lakeside demountable aluminium flood barrier is to install within minutes.

60m Flood Barrier - 3 Glass Wharf, Bristol

Lakeside Flood Solutions provides 60m of flood defences to the 3 Glass Wharf Development in Bristol.

Lakeside Flood Barriers proven to work in Storm Brendan

TV News Coverage dated 15th January 2020 highlighting how the Lakeside Flood Barriers worked "absolutely perfectly" to protect homeowners' properties from flooding during Storm Brendan in N. Ireland.

Lakeside Flood Barriers - Roseberry Place, Bath

Lakeside Flood Solutions protects a major £28m mixed-use regeneration scheme comprising 171 apartments and up to 60,000 sq ft of category-A office space.

Lakeside Demountable Aluminium Flood Barrier Testing

Lakeside are proud to be selected as the a partner and Main Supplier of Flood Defence Products for the Northern Ireland Rivers Agency Flood Defence Scheme.

The Low Industry Standard for Flood Barriers

This video shows the low standard of flood barriers in the UK today.

Industrial Flood Barrier Installation - Essex Cricket Ground

Installation of two 2.4m H demountable aluminium flood barriers to the Essex County Cricket Ground on behalf of KIER Construction in July 2015.

Commercial Flood Barrier Installation - Albert Jagger Factory, Romsey

Installation of our exclusive commercial flood barriers to the Albert Jagger Factory, Romsey in September 2014.